This is
Thuraya IP Voyager
The only vehicular terminal in the marketplace capable of achieving broadband speeds of up to 444kbps, with no tradeoff on connectivity. Its antenna has a rigid chassis and highly functional magnetic feet, allowing it to be set up on a vehicle and deployed in seconds, and giving it the ability to withstand any high-vibration environment. Keeping you covered, no matter what conditions you're operating in, the antenna also holds an IP56 Ingress Protection Rating, providing protection from dirt, dust, water, and oil. With IP broadband speeds of up to 444kbps while on the move and user-definable asymmetric streaming, this simple plug-and-play device makes the Thuraya IP Voyager ideal for time-critical missions, swift deployment, and personnel evacuation.
Download Thuraya IP Voyager Fact Sheet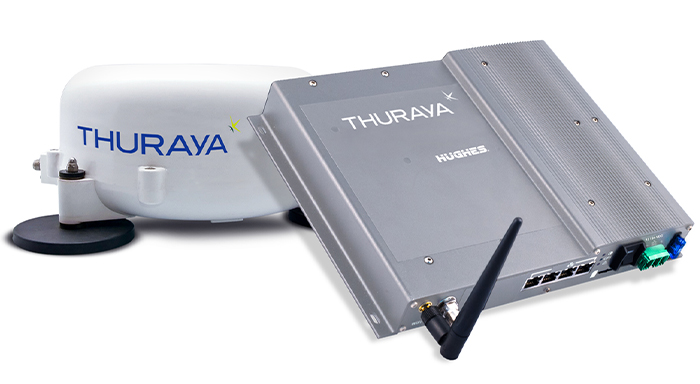 High-quality, ultra-reliable, and affordable.
This vehicular satellite terminal has been designed with a wide range of mission-critical and on-the-move operations in mind. Whether you're joining a conference call to collaborate with HQ, or you require video surveillance during border patrol, the IP Voyager allows you to securely and reliably communicate with colleagues using video, data, and VoIP. With a built-in WiFi access point, WPA2 encryption, and four PoE ports that allow for multiple wired devices, the IP Voyager is ideal for personnel in the field and on the move.
Whether you're looking for a quote, or not sure what to pick, we can help!
Related solutions
Defending and safeguarding a nation requires highly reliable, military-grade communications solutions. Our mission-critical communication and information infrastructure solutions are robust in withstanding remote, harsh, and challenging operating environments with no compromise in quality or consistency. At Cygnus Telecom, we carry out extensive research to make sure our government comms are extremely secure before they are actually deployed in the field.
Satellite plans for Thuraya IP Voyager
Need some support?
Let's talk
Whether you need a quote or you're looking for some support to find the best-fit solution for your needs, we can help.