This is
Thuraya IP Voyager
Whether your news teams are following a social movement, reporting on a natural disaster, or uncovering a political conflict, quick response to breaking news in time is of utmost importance to news broadcasters. Making this possible is Thuraya's best-in-class vehicular satellite terminal, Thuraya IP Voyager offering high-quality broadband access of up to 444kbps in your vehicle on-the-move. The terminal enables users to collaborate reliably and efficiently with colleagues using video, data, and VoIP.
Download Thuraya IP Voyager Fact Sheet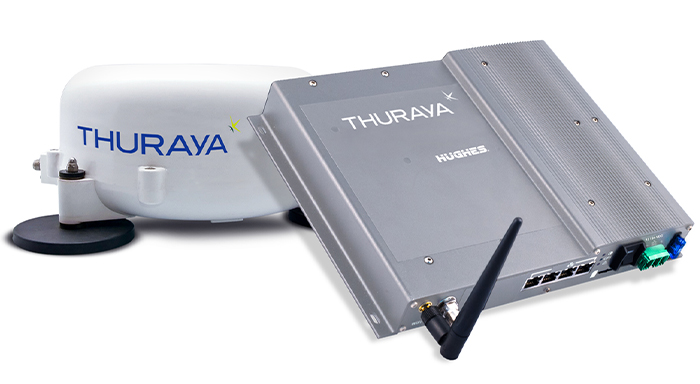 The highest quality of communication on the move.
Thuraya IP Voyager is the only vehicular terminal in the market capable of achieving streaming IP speeds of up to 384kbps as well as user-definable asymmetric streaming. With high durability to withstand harsh environments and 'connectivity on-demand,' the IP Voyager offers reliable communications when commuting between remote conflict zones, especially where frequent video transmission is necessary. This vehicular satellite terminal also has an antenna with magnetic feet that can be deployed easily on any vehicle offering an efficient plug-and-play feature.
Whether you're looking for a quote, or not sure what to pick, we can help!
Related solutions
With the 24-hour news cycle shrinking and the growing demand to break news just in time, on-the-move communications and rapid response accessibility are of utmost importance to correspondents on the ground. We understand how important it is for your broadcasting and media operations to stay up-to-speed with the high demand for cloud-based content delivery and on-demand videos. Our extensive range of satellite phones, easy-to-deploy broadband terminals, and antennas give you high mobility to film and report quality, live breaking news via voice or video broadcasting, no matter where you are.
Satellite plans for Thuraya IP Voyager
Need some support?
Let's talk
Whether you need a quote or you're looking for some support to find the best-fit solution for your needs, we can help.