This is
Thuraya IP Voyager
For business communications on the go, with no trade-off on connectivity, the Thuraya IP Voyager is the only vehicular terminal in the marketplace capable of achieving broadband speeds up to 444kbps. It's designed for quick and easy deployment on any vehicle, in just seconds, so you can focus on facilitating information transfer and serving new and untapped markets. The magnetic feet and rigid chassis can withstand any high-vibration environment, including protection from dirt, dust, water, and oil.
Download Thuraya IP Voyager Fact Sheet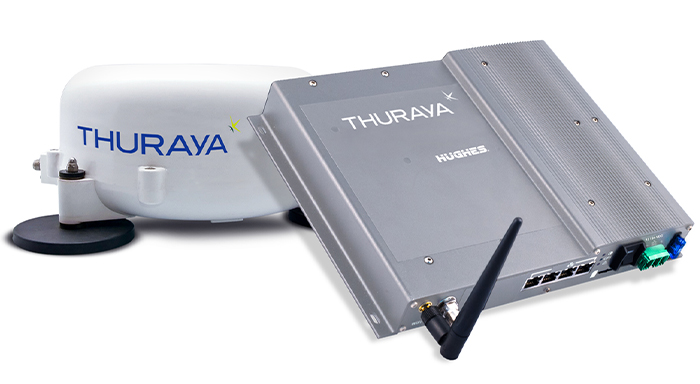 Plug-and-play experience to keep in constant contact with your corporate network.
This high-quality, ultra-reliable, and affordable vehicular satellite terminal has been designed with a wide range of business operations and corporate networks in mind. Whether you're quickly setting up an office in the field or attending a video conference with your colleagues, the IP Voyager allows you to securely and reliably communicate with ease, using video, data, and VoIP. With a built-in WiFi access point and four PoE ports that allow for multiple wired devices, the IP Voyager is ideal for field offices, information transfer, and constant connection to your colleagues.
Whether you're looking for a quote, or not sure what to pick, we can help!
Related solutions
If your organization works in remote areas away from the connectivity of the conventional networks, we've got you covered. Cygnus Enterprise Solutions offers increased mobility, ensuring that you are free from the risk of getting disconnected from critical phone calls, emails, or other correspondence. Our wide range of satellite telecom solutions delivers high volumes of data with quality voice, capable of supporting multiple users and providing high-speed internet and compatibility with various business applications.
Satellite plans for Thuraya IP Voyager
Need some support?
Let's talk
Whether you need a quote or you're looking for some support to find the best-fit solution for your needs, we can help.