This is
Thuraya IP Voyager
When disaster strikes, a rapid response can be the difference between life and death, making effective communication essential for relief workers. Especially for those first responders commuting to remote locations outside terrestrial coverage, we recommend a valuable investment in Thuraya's best-in-class vehicular satellite terminal, the IP Voyager. Offering high-quality broadband access of up to 444kbps on the go, this easy-to-install terminal is highly reliable, and also offers quick access to information such as weather and mapping services for emergency teams to always be prepared.
Download Thuraya IP Voyager Fact Sheet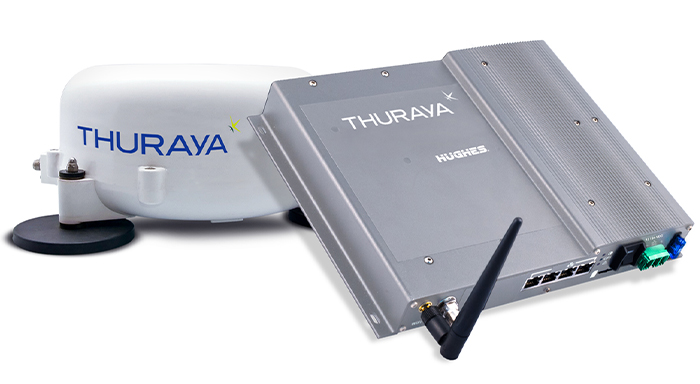 Designed with rapid response and relief operations on-the-go in mind.
Its magnetic feet, rigid chassis, and other self-protection characteristics give the Thuraya IP Voyager the ability to withstand the harshest of environments. Whether you're organizing a large-scale evacuation or deploying relief workers to remote communities, the IP Voyager allows you to securely and reliably communicate with colleagues using video, data, and VoIP. Its built-in WiFi allows access for multiple wired devices, making the IP Voyager ideal for relief workers deployed in locations off-the-grid, or those at disaster sites where terrestrial networks are down.
Whether you're looking for a quote, or not sure what to pick, we can help!
Related solutions
We work alongside disaster response and humanitarian teams across the globe by providing secure and faultless backup systems that enable them to accomplish the most challenging and dangerous missions anytime, anywhere. Our remote communication solutions include lightweight and portable equipment to enable high mobility and quicker response time for operational units. Allow us to take care of your remote communications for any budget, so you can focus on the job at hand- responding to emergencies, saving lives, and making the world a better place.
Satellite plans for Thuraya IP Voyager
Need some support?
Let's talk
Whether you need a quote or you're looking for some support to find the best-fit solution for your needs, we can help.