This is
Thuraya MCD Voyager
The most reliable satellite broadband terminal to exchange critical logistic, medical and situational awareness information with mission headquarters during a disaster, on-the-go. Its one-click connectivity establishes a WiFi hotspot for any wireless device within 100 meters, with broadband speeds up to 444kbps, both stationary and on the move. Focus on providing communities with the aid they require, while The MCD Voyager uses its auto-pointing terminal to connect users online in under a minute.
Download Thuraya MCD Voyager Fact Sheet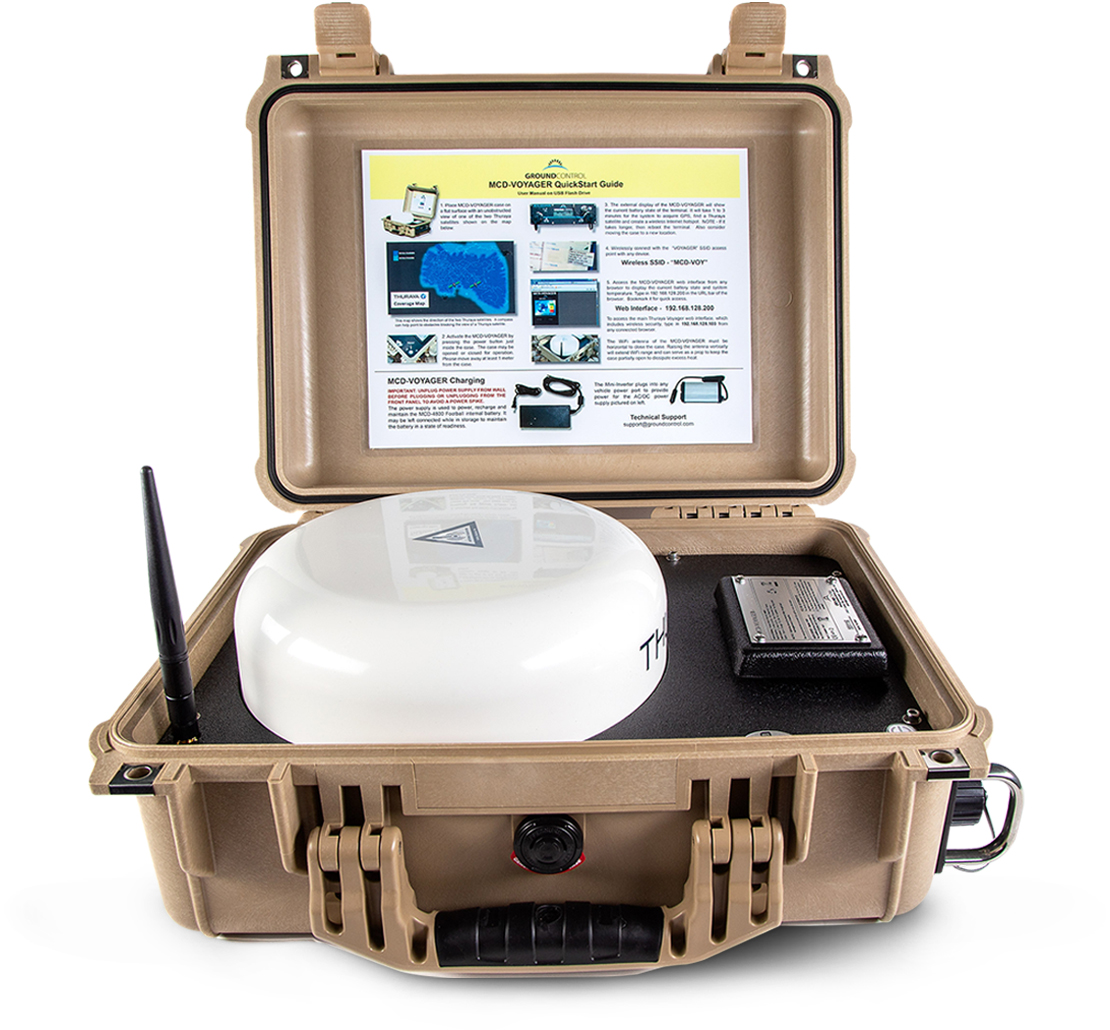 Stay connected while saving lives.
This ruggedized broadband terminal is complete with a backlit display for night-time use, and contained in a watertight, crush-proof, dust-proof reinforced plastic case, ideal to run in harsh environments posed by man-made or natural disasters. With asymmetric streaming capabilities to manage your upload and download speed and a simple-to-use design, the MCD Voyager can be operated by personnel without any training or certification.
Whether you're looking for a quote, or not sure what to pick, we can help!
Related solutions
We work alongside disaster response and humanitarian teams across the globe by providing secure and faultless backup systems that enable them to accomplish the most challenging and dangerous missions anytime, anywhere. Our remote communication solutions include lightweight and portable equipment to enable high mobility and quicker response time for operational units. Allow us to take care of your remote communications for any budget, so you can focus on the job at hand- responding to emergencies, saving lives, and making the world a better place.
Satellite plans for Thuraya MCD Voyager
Need some support?
Let's talk
Whether you need a quote or you're looking for some support to find the best-fit solution for your needs, we can help.