This is
Thuraya IP Voyager
Whether you're heading out on a road trip off-the-grid, or looking to set up your remote automobile office whilst on-the-move, the Thuraya IP Voyager has got you covered. Offering superior mobility, with zero compromises on connectivity, this satellite vehicular terminal is capable of achieving broadband speeds of up to 444kbps, unlike any of its counterparts on the marketplace. What's even more, no matter where your exploration or personal business takes you, the Thuraya IP Voyager's rigid chassis can withstand the harshest of environments, ensuring your connection stays uninterrupted.
Download Thuraya IP Voyager Fact Sheet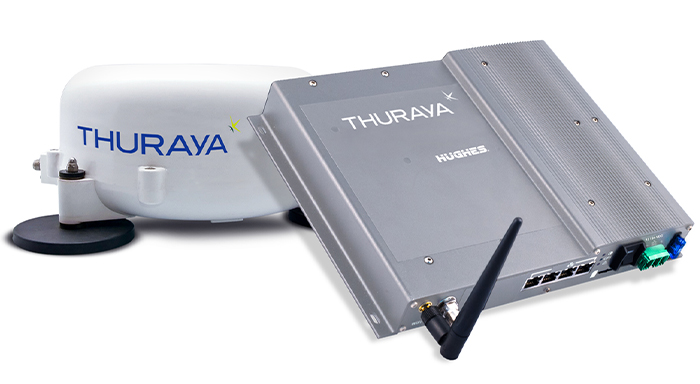 Built for comms-on-the-go.
This high-quality, ultra-reliable, and affordable vehicular satellite terminal has been designed while keeping your personal communications on-the-move in mind. Hop on a video call with family and friends, or quickly set up your remote office on-field with the IP Voyager's secure and highly reliable data. With a built-in WiFi access point with 802.11b/g/n technology and WPA2 encryption, as well as four PoE ports that allow for multiple wired devices, the IP Voyager is ideal for collaboration with your colleagues, to monitor your remote business operations in real-time, information transfers, and staying in constant connection with the rest of the world from afar.
Whether you're looking for a quote, or not sure what to pick, we can help!
Connected on-the-move
Whether you're looking to work remotely or simply stay in touch with those from afar, Cygnus has an extensive range of fast, reliable, and secure satellite internet devices to keep you connected to the world anytime, anywhere. With light, portable terminals that can fit into a backpack, vehicular terminals, and fixed solutions that deliver high bandwidth capacity across the globe – Cygnus has all your travel data needs covered.
Satellite plans for Thuraya IP Voyager
Need some support?
Let's talk
Whether you need a quote or you're looking for some support to find the best-fit solution for your needs, we can help.